Clinical Research – Jerome Canady, MD
Objectives
Dr. Canady has been studying in vivo mouse models the effect of Cold plasma. Cold plasma is an ionized gas with ion temperature close to room temperature and can be used to selectively attack cancerous tissue without damaging normal cells in-vitro and reduce tumor size in-vivo.  The objective mainly includes 1. to evaluate all the USMI/Canady Biotechnology manufactured cold plasma devices in various operation modes of voltages, helium flow rates 2. to assess the effect of these devices on healthy tissue and measure the depth of injury or eschar 3.  FDA's 510(K) sponsored application for all the in house manufactured devices and electrosurgical probes. These studies are also being extended and tested on larger animals in the laboratory in association with the George Washington University and Temple University.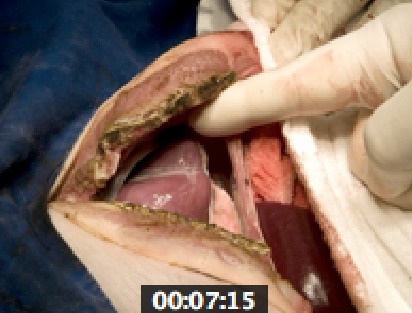 Figure 1.
In vivo porcine median Sternotomy@120w, 5 lts/min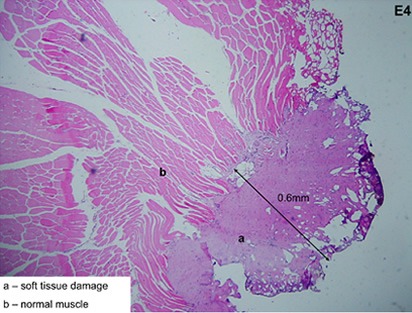 Figure 2.
In vivo porcine resection of sternum: depth of injury 0.6mm, 120w@ 5 liters/min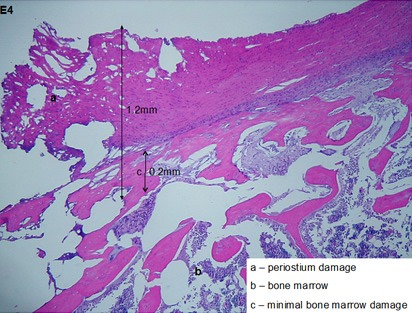 Figure 3A.
In vivo porcine resection of sternum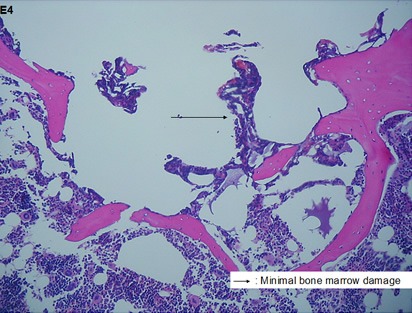 Figure 3B.
In vivo resection of sternum in vivo porcine model minimal bone marrow damage (0.2mm)@12w, 5 liters/min
In his Own Words
The multidisciplinary team of doctors and scientists from multiple medical centers collaborated over a nine month period to design a treatment plan consisting of preoperative chemo and radiation therapy along with Canady Hybrid Viera Plasma Scalpel.
"We are extremely excited about the outcome for this patient. The treatment plan, led by Victor Priego, M.D. and myself, involving this phenomenal team of doctors, resulted in a curative resection" – Jerome Canady, M.D.